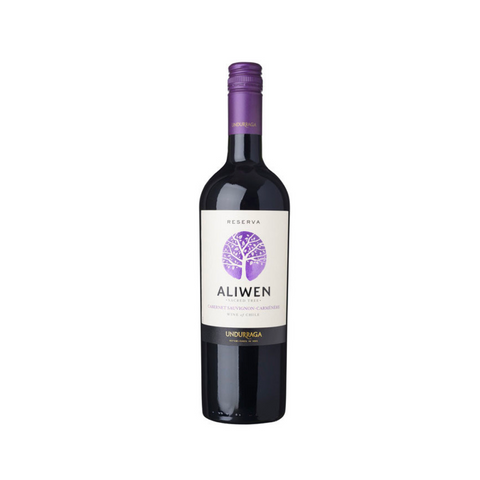 Aliwen
Aliwen Cabernet Sauvignon-Carménère
Introducing the Aliwen Cabernet Sauvignon-Carménère, a captivating blend of two iconic grape varietals from the renowned Colchagua Valley in Chile. This exceptional wine exemplifies the artistry and craftsmanship that Aliwen Vineyard is celebrated for, showcasing the unique character and terroir of the region.
The Aliwen Cabernet Sauvignon-Carménère blend combines the best qualities of both grapes, resulting in a harmonious and complex wine. The Cabernet Sauvignon brings structure, elegance, and intensity to the blend, while the Carménère adds depth, richness, and a touch of spice. Together, they create a symphony of flavors that dance on the palate.
In the glass, the Aliwen Cabernet Sauvignon-Carménère displays a deep, ruby-red color that hints at the wine's depth and concentration. On the nose, enticing aromas of ripe blackberries, plums, and blackcurrants intermingle with notes of chocolate, tobacco, and a subtle hint of herbs.
The palate is velvety and well-balanced, with a medium to full body that coats the mouth with luscious flavors. Ripe black fruits take center stage, accompanied by nuances of cedar, vanilla, and a touch of black pepper. The tannins are smooth and polished, providing structure and length to the wine's finish.
This blend is crafted with utmost care and attention to detail. The grapes are handpicked from Aliwen's vineyards, ensuring that only the highest quality fruit makes its way into the wine. The fermentation process is carried out using traditional winemaking techniques, followed by careful aging in oak barrels to enhance the wine's complexity and add subtle layers of flavor.
The Aliwen Cabernet Sauvignon-Carménère is a versatile wine that pairs beautifully with a wide range of dishes. Its structured tannins and vibrant acidity make it a perfect match for grilled meats, hearty stews, and aged cheeses. It can also be enjoyed on its own, allowing the wine's layers of flavors to unfold and evolve with each sip.
Whether you're a seasoned wine connoisseur or simply looking to discover a new and exciting blend, the Aliwen Cabernet Sauvignon-Carménère is sure to delight your senses. With its exceptional quality, expressive flavors, and the distinct character of the Colchagua Valley, this wine is a testament to Aliwen Vineyard's commitment to producing wines of the highest caliber. Indulge in a bottle and experience the true essence of Chilean winemaking.
Carménère is a red wine that pairs best with lean but meaty dishes such as Lamb with Mushrooms, Pork Tacos, Turkey, Beef Stew, Pasta with Meat Sauce, Tuna Steak or grilled chicken.
The Aliwen Cabernet Sauvignon-Carménère pairs exquisitely with grilled ribeye steak, as its rich black fruit flavors, hints of tobacco, and velvety texture beautifully complement the juicy and savory qualities of the meat.

Cabernet Sauvignon - Carménère
About the Winemaker
Aliwen Vineyard is a boutique winery nestled in Chile's picturesque Colchagua Valley. With a focus on sustainable practices and organic farming, Aliwen crafts exceptional wines that reflect the region's terroir. From their captivating red blends to their elegant Chardonnay, each bottle showcases the vineyard's commitment to quality and artistry. With breathtaking vineyard views and warm hospitality, a visit to Aliwen Vineyard is a memorable experience that immerses guests in the beauty of Chilean winemaking. Discover the soul of the Colchagua Valley through the exceptional wines of Aliwen Vineyard.