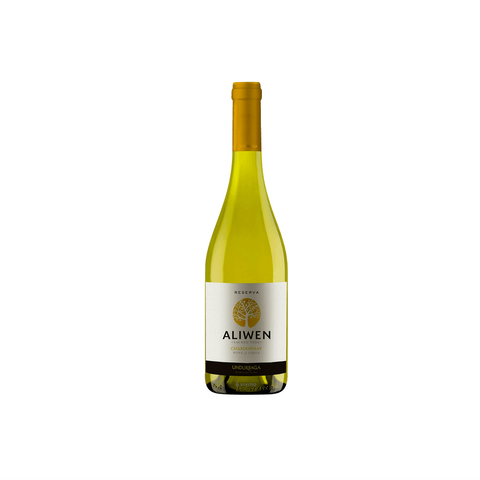 Aliwen
Aliwen Chardonnay
Introducing the Aliwen Chardonnay, a sublime expression of the classic Chardonnay grape varietal from the esteemed Colchagua Valley in Chile. This elegant and vibrant white wine captures the essence of Aliwen Vineyard's commitment to crafting exceptional wines that reflect the region's unique terroir.
The Aliwen Chardonnay showcases a beautiful pale straw color that glistens in the glass, hinting at the wine's freshness and liveliness. On the nose, inviting aromas of ripe tropical fruits, such as pineapple and mango, mingle with hints of citrus blossom, vanilla, and a delicate touch of oak.
On the palate, the Aliwen Chardonnay reveals its true charm. It exhibits a perfect balance between richness and crisp acidity, creating a harmonious mouthfeel. Flavors of golden apple, pear, and lemon zest dance on the palate, complemented by subtle notes of toasted almond and a gentle creaminess.
This Chardonnay is crafted with meticulous attention to detail. The grapes are handpicked at optimal ripeness, ensuring that only the finest fruit is selected for the winemaking process. Gentle pressing and cool fermentation preserve the wine's delicate aromas and vibrant flavors, while partial oak aging adds complexity and a subtle layer of toastiness.
The Aliwen Chardonnay is a versatile wine that can be enjoyed on its own or paired with a variety of dishes. Its bright acidity and well-rounded body make it a perfect companion for seafood, roasted chicken, creamy pasta dishes, or soft cheeses. It can also be savored as an aperitif, allowing its enticing flavors to captivate your senses.
With its exceptional quality and refined character, the Aliwen Chardonnay embodies the spirit of Chilean winemaking. It is a testament to the Colchagua Valley's ability to produce world-class Chardonnays that strike a delicate balance between fruit expression and elegance.
Indulge in a bottle of Aliwen Chardonnay and experience the artistry and passion that go into every sip. Whether you're an avid Chardonnay enthusiast or a wine lover seeking a remarkable white wine, this offering from Aliwen Vineyard is sure to captivate your palate and leave a lasting impression.
seafood, roasted chicken, creamy pasta dishes, and soft cheeses
Aliwen Chardonnay delights the senses with refreshing tropical fruit notes of pineapple and mango, balanced by hints of citrus blossom and a subtle touch of toasted almond, culminating in a harmonious and vibrant expression of the Chardonnay grape.

About the Winemaker
Aliwen Vineyard is a boutique winery nestled in Chile's picturesque Colchagua Valley. With a focus on sustainable practices and organic farming, Aliwen crafts exceptional wines that reflect the region's terroir. From their captivating red blends to their elegant Chardonnay, each bottle showcases the vineyard's commitment to quality and artistry. With breathtaking vineyard views and warm hospitality, a visit to Aliwen Vineyard is a memorable experience that immerses guests in the beauty of Chilean winemaking. Discover the soul of the Colchagua Valley through the exceptional wines of Aliwen Vineyard.