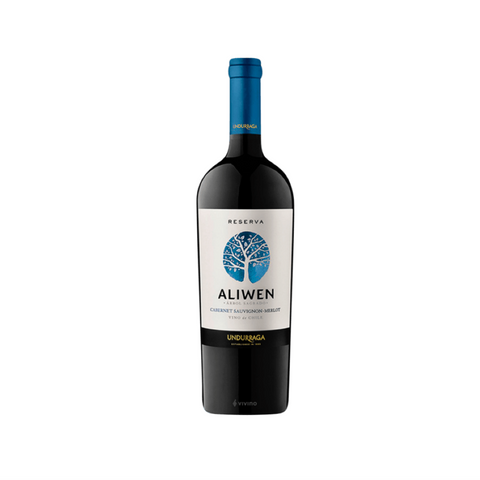 Aliwen
Aliwen Malbec
$13.87
$14.72
you save $0.85
Introducing the Aliwen Malbec, a captivating red wine that showcases the exceptional quality and character of this iconic grape varietal. Sourced from the prestigious vineyards of the Colchagua Valley in Chile, this Malbec embodies the artistry and passion of Aliwen Vineyard.
The Aliwen Malbec displays a deep, garnet color that hints at the wine's intensity and depth. On the nose, enticing aromas of blackberries, dark cherries, and plums intermingle with hints of spice, vanilla, and a subtle touch of oak.
On the palate, the Aliwen Malbec is rich and full-bodied, with a velvety texture and balanced tannins. Flavors of ripe black fruits dominate, accompanied by notes of cocoa, tobacco, and a touch of black pepper. The wine's impressive structure and long, lingering finish make it a true delight to savor.
Crafted with precision and care, the Aliwen Malbec reflects the unique terroir of the Colchagua Valley. The grapes are handpicked at optimal ripeness, ensuring that only the finest fruit is used. Fermentation and aging processes are carried out with meticulous attention to detail, resulting in a wine that captures the essence of the Malbec grape.
The Aliwen Malbec is a versatile wine that pairs beautifully with a variety of dishes. Its robust nature and well-rounded acidity make it an excellent match for grilled meats, hearty stews, and flavorful cheeses. It can also be savored on its own, allowing the wine's complexity and depth to unfold with each sip.
Experience the allure of the Aliwen Malbec and immerse yourself in the artistry of Chilean winemaking. With its exceptional quality, captivating flavors, and the unmistakable character of the Colchagua Valley, this wine is sure to leave a lasting impression on wine enthusiasts and connoisseurs alike.
The Aliwen Malbec pairs wonderfully with grilled ribeye steak, as its bold flavors of ripe black fruits, hints of spice, and velvety texture beautifully complement the richness and juiciness of the meat.
The Aliwen Malbec entices with luscious notes of ripe blackberries, dark cherries, and plums, accompanied by hints of spice, cocoa, and tobacco, all embraced by velvety textures and a long, satisfying finish.

About the Winemaker
Aliwen Vineyard is a boutique winery nestled in Chile's picturesque Colchagua Valley. With a focus on sustainable practices and organic farming, Aliwen crafts exceptional wines that reflect the region's terroir. From their captivating red blends to their elegant Chardonnay, each bottle showcases the vineyard's commitment to quality and artistry. With breathtaking vineyard views and warm hospitality, a visit to Aliwen Vineyard is a memorable experience that immerses guests in the beauty of Chilean winemaking. Discover the soul of the Colchagua Valley through the exceptional wines of Aliwen Vineyard.