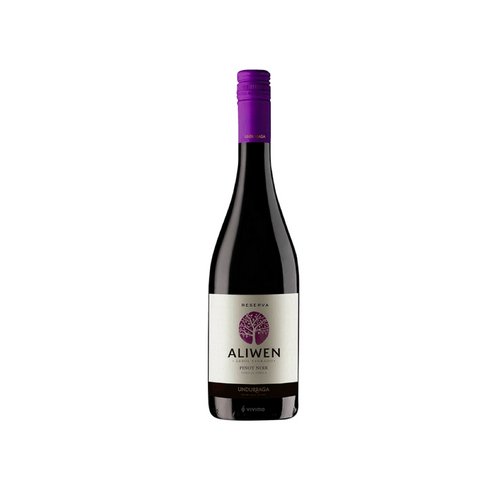 Aliwen
Aliwen Pinot Noir
Introducing the Aliwen Pinot Noir, an enchanting red wine that captures the elegance and finesse of the renowned Pinot Noir grape. Sourced from the esteemed vineyards of the Colchagua Valley in Chile, this wine embodies the artistry and passion of Aliwen Vineyard.
The Aliwen Pinot Noir showcases a beautiful ruby red color that shimmers in the glass, hinting at the wine's vibrancy and allure. On the nose, delicate aromas of red berries, cherries, and raspberries mingle with subtle floral notes and a touch of earthiness.
On the palate, the Aliwen Pinot Noir reveals its true charm. It offers a medium-bodied texture with silky tannins, creating a smooth and refined mouthfeel. Flavors of ripe strawberries, cherries, and cranberries take center stage, accompanied by nuances of baking spices and a hint of vanilla.
Crafted with precision and care, the Aliwen Pinot Noir reflects the unique terroir of the Colchagua Valley. The grapes are handpicked at optimal ripeness, ensuring that only the finest fruit is used. Gentle pressing and fermentation techniques preserve the wine's delicate aromas and flavors, while aging in French oak barrels adds subtle complexity and a touch of oak influence.
The Aliwen Pinot Noir is a versatile wine that pairs beautifully with a range of dishes. Its bright acidity and elegant structure make it a perfect companion for roasted poultry, grilled salmon, or mushroom-based dishes. It can also be enjoyed on its own, allowing its delicate flavors to unfold and captivate the palate.
Experience the allure of the Aliwen Pinot Noir and discover the finesse and beauty of Chilean winemaking. With its exceptional quality, expressive flavors, and the distinctive character of the Colchagua Valley, this wine is sure to captivate wine enthusiasts and connoisseurs seeking a sophisticated and memorable experience.
Aliwen Pinot Noir pairs beautifully with roasted duck, bringing out the wine's delicate fruit flavors and complementing the rich, tender meat.
The Aliwen Pinot Noir delights with delicate aromas of red berries and cherries, a silky texture, and flavors of ripe strawberries, cranberries, and baking spices, culminating in an elegant and refined expression of the Pinot Noir grape.

About the Winemaker
Aliwen Vineyard is a boutique winery nestled in Chile's picturesque Colchagua Valley. With a focus on sustainable practices and organic farming, Aliwen crafts exceptional wines that reflect the region's terroir. From their captivating red blends to their elegant Chardonnay, each bottle showcases the vineyard's commitment to quality and artistry. With breathtaking vineyard views and warm hospitality, a visit to Aliwen Vineyard is a memorable experience that immerses guests in the beauty of Chilean winemaking. Discover the soul of the Colchagua Valley through the exceptional wines of Aliwen Vineyard.