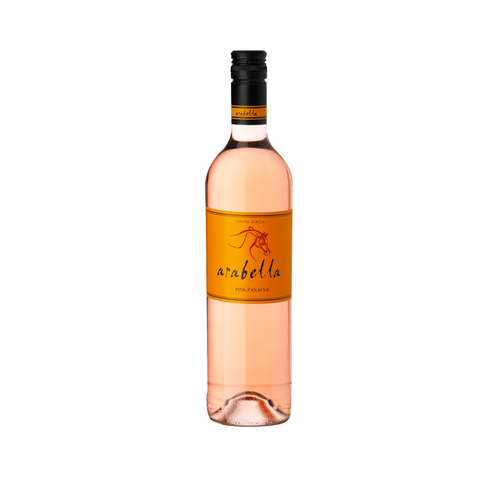 Arabella
Arabella Pink Panacea Rose
Introducing Arabella Pink Panacea Rosé, a delightful and refreshing wine that captures the essence of a perfect summer day. This vibrant rosé is crafted with meticulous attention to detail, offering a harmonious balance of flavors and a captivating pink hue that promises to elevate any occasion.
In the glass, Arabella Pink Panacea Rosé displays a beautiful salmon pink color that shimmers with a touch of elegance. The wine opens with inviting aromas of ripe strawberries, juicy watermelon, and hints of floral notes, creating a bouquet that is both enticing and invigorating.
On the palate, this rosé unveils a symphony of flavors that dance gracefully on the tongue. Ripe red berries, succulent raspberries, and refreshing citrus notes intertwine, offering a burst of fruitiness that is complemented by a vibrant acidity. The wine's medium body and smooth texture provide a luxurious mouthfeel, leading to a crisp and satisfying finish.
Arabella Pink Panacea Rosé is a versatile wine that pairs effortlessly with a variety of dishes. It complements light salads, grilled seafood, summer fruits, and creamy cheeses, adding a touch of vibrancy and sophistication to every bite.
Crafted with passion and precision, Arabella Pink Panacea Rosé reflects the commitment of the winemakers to produce wines of exceptional quality. The grapes are handpicked from vineyards that benefit from the region's optimal climate and terroir, resulting in fruit with optimal ripeness and expressive flavors.
Embrace the joy of summer with Arabella Pink Panacea Rosé and let its refreshing character transport you to sun-kissed days and cherished moments. With each sip, allow the wine to envelop your senses, as it celebrates the beauty of life's simplest pleasures. Raise your glass and toast to the enchanting journey that Arabella Pink Panacea Rosé takes you on, capturing the spirit of summer in every drop.
Arabella Pink Panacea Rosé pairs beautifully with light salads, grilled seafood, fresh summer fruits, and creamy cheeses, enhancing their flavors with its vibrant fruitiness and refreshing acidity.
Arabella Pink Panacea Rosé delights with its enticing aromas of ripe strawberries and watermelon, followed by a refreshing palate bursting with flavors of red berries, citrus notes, and a vibrant acidity, all leading to a crisp and invigorating finish.

About the Winemaker
Arabella Vineyard, nestled in South Africa's picturesque Robertson Wine Valley, is a thriving estate celebrated for its exceptional wines. Surrounded by majestic mountains, the vineyard boasts rolling hills, fertile soils, and a favorable microclimate. With a commitment to sustainable practices, Arabella cultivates a diverse range of grape varietals, including Cabernet Sauvignon, Shiraz, Chardonnay, and Chenin Blanc. The winemakers expertly balance tradition and innovation, resulting in wines of remarkable quality and distinct character. Beyond the vineyards, Arabella offers a welcoming tasting room and charming accommodations, inviting visitors to immerse themselves in the beauty of the estate and indulge in a true South African wine experience.