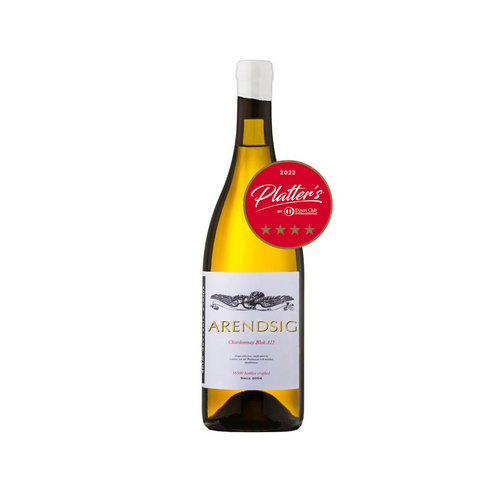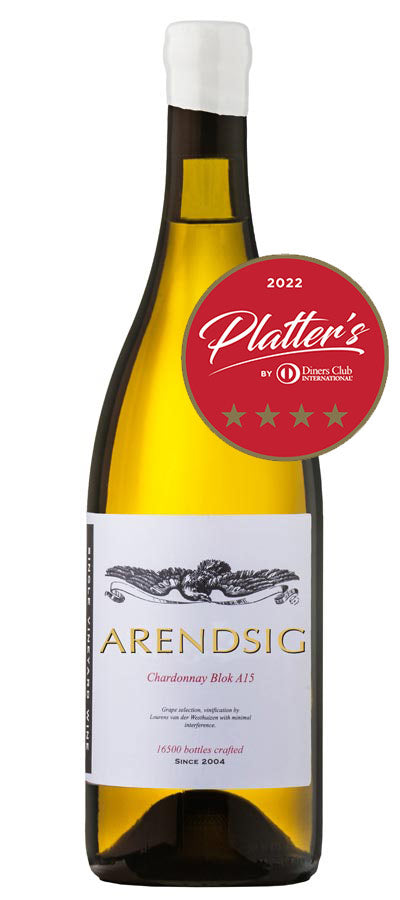 Arendsig
Arendsig Chardonnay
Introducing Arendsig Chardonnay, a captivating white wine that embodies elegance, complexity, and the exceptional craftsmanship of Arendsig Vineyards. Sourced from their carefully nurtured vineyards in the renowned Robertson Wine Valley of South Africa, this Chardonnay showcases the region's optimal growing conditions and the winemakers' commitment to producing wines of outstanding quality.
In the glass, Arendsig Chardonnay displays a radiant golden hue, inviting you to explore its enticing aromas. Delicate notes of ripe peach, tropical fruits, and vanilla intermingle, creating a captivating bouquet that tantalizes the senses.
On the palate, this Chardonnay unfolds with grace and sophistication. Ripe peach, juicy pineapple, and citrus flavors take center stage, accompanied by subtle hints of toasted oak and a touch of spice. The wine's medium to full body is complemented by a creamy texture and a well-balanced acidity, leading to a harmonious and lingering finish.
Arendsig Chardonnay is a versatile wine that pairs beautifully with an array of dishes. It complements roasted chicken, seafood, creamy pasta, and soft cheeses, enhancing their flavors and adding a touch of refinement to every bite.
Crafted with meticulous attention to detail, Arendsig Chardonnay reflects the passion and expertise of the winemakers. The grapes are handpicked at optimal ripeness, ensuring the expression of vibrant fruit flavors and the preservation of the grape's natural acidity.
Indulge in the allure of Arendsig Chardonnay and experience the sheer delight it brings to every sip. With each glass, let the wine transport you to the breathtaking vineyards of the Robertson Wine Valley, where the beauty of nature and the artistry of winemaking come together in perfect harmony. Raise your glass and toast to the remarkable journey that Arendsig Chardonnay takes you on, as it celebrates the essence of this noble grape and the joy of savoring life's memorable moments.
Arendsig Chardonnay pairs beautifully with roasted chicken, grilled seafood, creamy pasta dishes, buttery lobster, and soft cheeses, enhancing their flavors with its vibrant fruit notes, creamy texture, and well-balanced acidity.
Arendsig Chardonnay entices with its inviting aromas of ripe peach, tropical fruits, and vanilla, leading to a palate bursting with flavors of juicy peach, pineapple, and citrus, complemented by subtle notes of toasted oak and spice, all balanced by a creamy texture and a well-integrated acidity, culminating in a harmonious and lingering finish.

About the Winemaker
My philosophy is to create great single vineyard wines from unique soil, climate and location. It's the soil with all the microbes, cycle of elements and the help of living organisms that create the heartbeat for my vines. The vineyards location in relation to the sun and wind direction, as well as a holistically favourable climate, influences the expression of each block.