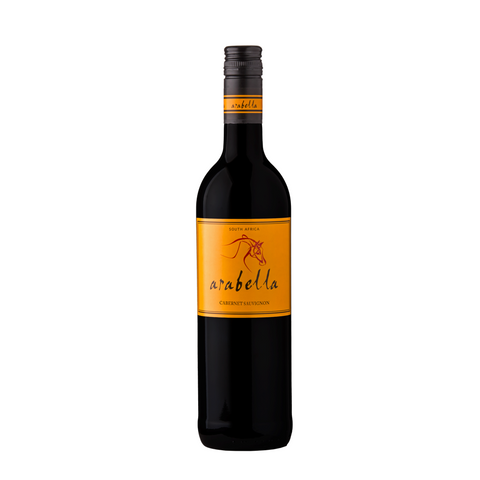 Arabella
Arabella Cabernet Sauvignon
Arabella Cabernet Sauvignon is a captivating red wine that embodies the bold and expressive nature of the Cabernet Sauvignon grape. Hailing from the vineyards of South Africa, this exceptional wine offers a sensory experience that is both rich and enticing.
In the glass, Arabella Cabernet Sauvignon displays a deep garnet color, hinting at the intensity and depth that awaits within each sip. From the first swirl, enticing aromas of ripe blackberries, dark cherries, and blackcurrants emerge, complemented by subtle hints of tobacco, vanilla, and spices.
On the palate, this Cabernet Sauvignon impresses with its full-bodied nature and velvety texture. Flavors of black fruits, such as blackberries and plums, take center stage, intertwined with notes of chocolate and a touch of oak. Fine-grained tannins add structure and balance, while a well-integrated acidity brings vibrancy and length to the finish.
Arabella Cabernet Sauvignon is a versatile wine that pairs beautifully with a variety of dishes. It complements grilled meats, roasted vegetables, and robust cheeses, enhancing the flavors and adding a touch of elegance to every bite.
Crafted with passion and expertise, Arabella Cabernet Sauvignon reflects the commitment of the winemakers to create a wine of exceptional quality. The grapes are carefully selected from vineyards in South Africa, where the unique terroir and favorable climate contribute to the wine's distinctive character.
Immerse yourself in the allure of Arabella Cabernet Sauvignon and experience the depth, complexity, and sheer pleasure that it has to offer. With each sip, let the wine transport you to the picturesque vineyards of South Africa, where tradition and innovation combine to create a wine that truly captivates the senses. Raise your glass and celebrate the remarkable journey that Arabella Cabernet Sauvignon takes you on, as it elevates moments of enjoyment and creates cherished memories.
Arabella Cabernet Sauvignon pairs excellently with grilled steaks or lamb chops, as the wine's rich flavors and firm tannins complement the savory and juicy qualities of the meat.
Arabella Cabernet Sauvignon entices with rich flavors of ripe blackberries, cassis, and subtle hints of vanilla and spice, leading to a velvety texture and a long, satisfying finish.

About the Winemaker
Arabella Vineyard, nestled in South Africa's picturesque Robertson Wine Valley, is a thriving estate celebrated for its exceptional wines. Surrounded by majestic mountains, the vineyard boasts rolling hills, fertile soils, and a favorable microclimate. With a commitment to sustainable practices, Arabella cultivates a diverse range of grape varietals, including Cabernet Sauvignon, Shiraz, Chardonnay, and Chenin Blanc. The winemakers expertly balance tradition and innovation, resulting in wines of remarkable quality and distinct character. Beyond the vineyards, Arabella offers a welcoming tasting room and charming accommodations, inviting visitors to immerse themselves in the beauty of the estate and indulge in a true South African wine experience.