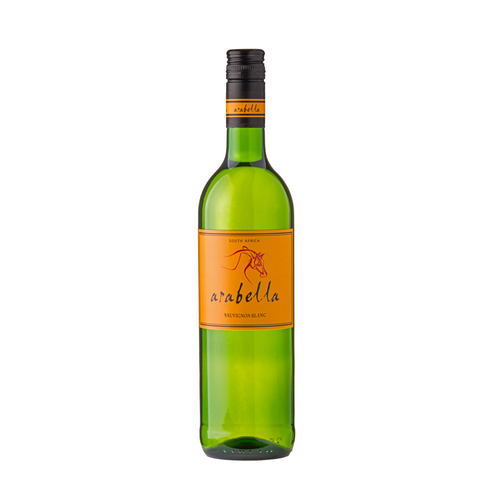 Arabella
Arabella Sauvignon Blanc
Introducing Arabella Sauvignon Blanc, a captivating white wine that embodies the essence of this renowned grape variety. Sourced from the esteemed Robertson Wine Valley in South Africa, this Sauvignon Blanc showcases the region's exceptional terroir and the winemakers' commitment to crafting wines of exceptional quality.
Arabella Sauvignon Blanc greets the eye with a pale straw color, hinting at the freshness and vibrancy that awaits. The wine entices the senses with enticing aromas of tropical fruits, such as passion fruit, guava, and hints of citrus, interlaced with delicate herbal notes.
On the palate, this Sauvignon Blanc unveils a symphony of flavors that dance gracefully on the tongue. Juicy tropical fruits, zesty citrus, and subtle herbaceous undertones intertwine, offering a vibrant and refreshing taste experience. The wine's crisp acidity provides a lively and well-balanced structure, leading to a clean and invigorating finish.
Arabella Sauvignon Blanc is a versatile wine that pairs beautifully with an array of dishes. It complements seafood, salads, light poultry, and fresh vegetarian fare, enhancing the flavors and adding a touch of elegance to every bite.
Crafted with meticulous attention to detail, Arabella Sauvignon Blanc reflects the passion of the winemakers and the region's ideal growing conditions. The grapes are carefully selected from vineyards that benefit from cool breezes and diverse soils, resulting in fruit with optimal ripeness and expressive flavors.
Immerse yourself in the allure of Arabella Sauvignon Blanc and experience the vibrant, refreshing, and delightful qualities it has to offer. With each sip, let the wine transport you to the sun-drenched vineyards of South Africa, where nature's beauty and the art of winemaking harmoniously converge. Raise your glass and toast to the remarkable journey that Arabella Sauvignon Blanc takes you on, as it celebrates the joy of savoring life's simple and unforgettable moments.
Arabella Sauvignon Blanc pairs beautifully with fresh seafood, goat cheese salads, grilled vegetables, and citrus-infused dishes, enhancing their flavors with its vibrant tropical fruit notes and crisp acidity.
Arabella Sauvignon Blanc delights with its enticing aromas of tropical fruits and citrus, followed by a vibrant palate bursting with flavors of passion fruit, guava, and zesty citrus, all balanced by a crisp acidity and leading to a refreshing and invigorating finish.

About the Winemaker
Arabella Vineyard, nestled in South Africa's picturesque Robertson Wine Valley, is a thriving estate celebrated for its exceptional wines. Surrounded by majestic mountains, the vineyard boasts rolling hills, fertile soils, and a favorable microclimate. With a commitment to sustainable practices, Arabella cultivates a diverse range of grape varietals, including Cabernet Sauvignon, Shiraz, Chardonnay, and Chenin Blanc. The winemakers expertly balance tradition and innovation, resulting in wines of remarkable quality and distinct character. Beyond the vineyards, Arabella offers a welcoming tasting room and charming accommodations, inviting visitors to immerse themselves in the beauty of the estate and indulge in a true South African wine experience.