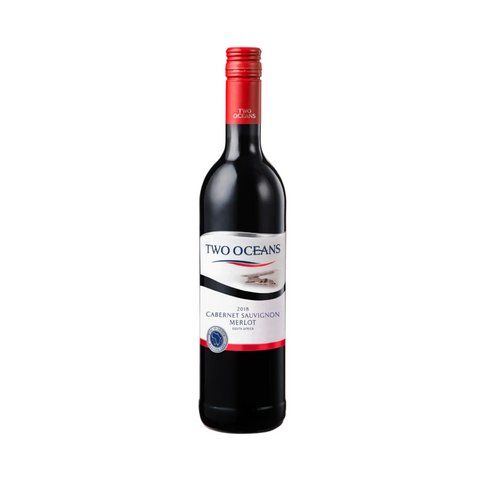 Two Oceans
Two Oceans Cabernet Sauvignon Merlot
Ruby red, beautifully soft and easy drinking, its lovely ripe plum and red fruit flavors almost jump out of the glass.

Food pairing? A great match with red meats like roast lamb, stews, grilled meat, carpaccio and kidneys.
Excellent served with red meat dishes such as roast lamb, stews, grilled meat, carpaccio as well as with robust pasta dishes.
An abundance of cherry and red berry aromas, with hints of oak spices. Taste: An easy drinking wine with intense berry flavours and soft, elegant tannins.

Cabernet Sauvignon - Merlot
About the Winemaker
Two Oceans takes its responsibility to the environment very seriously. All wines are made from IPW-accredited vines, farmed according to eco-sustainable principles. They also carry the fully traceable sustainability seal that guarantees production integrity every step of the way from the vineyards to the final pack, be it bottle or box. Bottled wines are sold exclusively in light-weight, fully recyclable 410 gram bottles, while labels, inks and adhesives are all biodegradable.