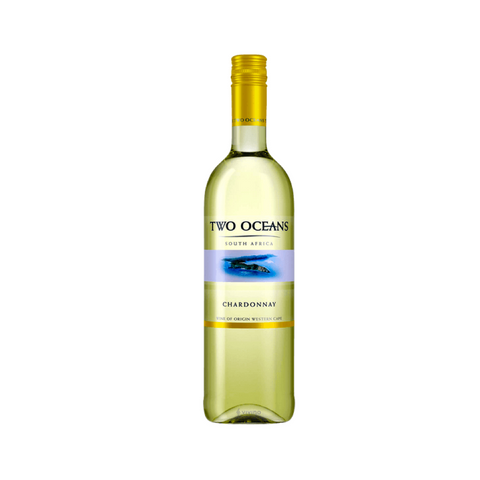 Two Oceans
Two Oceans Chardonnay
This medium-bodied wine is straw-yellow in color with an excellent balance between summer fruit, sweetness and acid, rounded off with well-integrated oak. Enjoy lightly chilled. Excellent paired with pasta, poultry and fish dishes served with creamy sauces.
Enjoy with rich food dishes such as fig salads, poultry and fish in creamy sauces as well as asparagus and melted butter, snails in garlic utter, Cheese platters with salami and pastrami meats or halloumi and confit apricots match equally well.
Light straw Colour with golden specs. Fruit dominated aromas of subtle citrus, apricot and lime with delicate oak nuances in the background. This medium-bodied, lightly-oaked wine has abundant fruit flavours complemented by a fantastic acid/sugar balance to keep it lingering in the mouth.

About the Winemaker
Two Oceans takes its responsibility to the environment very seriously. All wines are made from IPW-accredited vines, farmed according to eco-sustainable principles. They also carry the fully traceable sustainability seal that guarantees production integrity every step of the way from the vineyards to the final pack, be it bottle or box. Bottled wines are sold exclusively in light-weight, fully recyclable 410 gram bottles, while labels, inks and adhesives are all biodegradable.