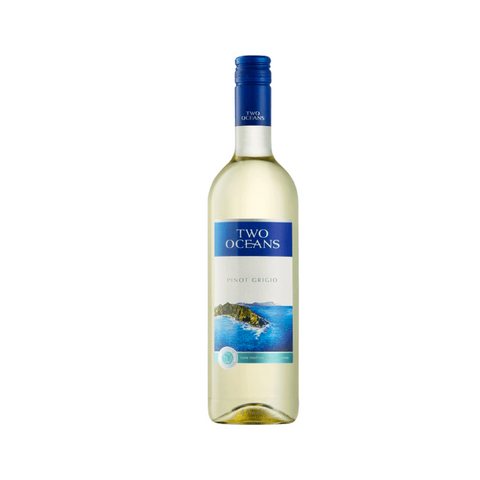 Two Oceans
Two Oceans Pinot Grigio
Brilliantly clear with flecks of green this Pinot Grigio is very appetizing to look at and even more so to drink. Subtly perfumed with floral notes and fragrances of dried apricot and peach and a hint of litchi, it's crisp,zesty and easy drinking.
Food Pairing? Very compatible with Asian-inspired slightly spicy dishes, light salads, cold meat, pizzas, pastas and grilled seafood.
An ideal sipping wine for a warm day, excellent served with light salads and cold meats. A crisp wine with a touch of fruit and a fresh, lingering finish.
Upfront fruit flavours including dried peach and apricot as well as a hint of litchi.

About the Winemaker
Two Oceans takes its responsibility to the environment very seriously. All wines are made from IPW-accredited vines, farmed according to eco-sustainable principles. They also carry the fully traceable sustainability seal that guarantees production integrity every step of the way from the vineyards to the final pack, be it bottle or box. Bottled wines are sold exclusively in light-weight, fully recyclable 410 gram bottles, while labels, inks and adhesives are all biodegradable.